P7 adventures
6th Jun 2017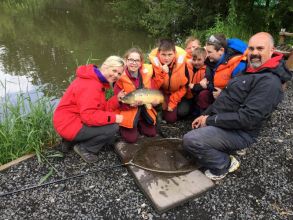 We have been very busy these last few months with workshops, rehearsals, field trips and of course lots of engaging academics. Chloe from WE schools in England came to visit us to help us understand our impact on various global issues. We participated in The Big Clean with the rest of the school and our local neighbourhood looks very clean because of everyone's hard work. We competed at several athletics events at Mary Peter's Track and Tristan won a special award at the Lisburn swimming gala. Most improved P7 swimmer in the whole of Lisburn!! Well done Tristan!
Leah's dad has been visiting us every week to do a workshop called "New Beginnings" designed to help us as we move on to Post Primary School. We even had a chance to use digital cameras and become photographers for the day. Thank you Opus! We love our end of year photos.
We visited the beautiful Assembly Buildings at Stormont to learn about citizenship and our government. Such an amazing place! We have even caught some enormous Carpe with Mark from Angling First. Thank you to Andy and Rab, our local community representatives from the PSNI for driving us and treating everyone to some delicious ice cream for our great behaviour.
Rehearsals are in full swing for Largymore Grease and we hope you will be able to join us at one of our performances. Matinee show on Wednesday 14th at 1:30pm and evening performance on Thursday 15th June at 6:30pm. Please come and see us. We promise, you will have a great time.
Only a few more weeks left but lots more to come. Watch this space as P7 finish off their time at Largymore in style 😄
Largymore Primary School, Hillhall Rd, Lisburn BT27 5BT | T: (028) 92 663773 | E: gdunlop523@c2kni.net